It's not about Facebook and Twitter.
Seems like a shocking thing to say on a blog about social media, right?
Well, it's true.
Take a look at the homepage of this blog. Take a look at the sidebar. The most valuable real estate is not given to social networking sites.
It's given to email opt-in forms.
Why?
Because Francisco knows that the money is in the mailing list. He also knows that to keep his blog alive and profitable for the long term he needs a big ole mailing list filled with people who love his stuff.
The hard truth about email subscribers
There aren't many things that stay the same on the internet.
It is a constantly changing and evolving space.
But something that has been consistently true for years and years is the fact that a mailing list provides profitable security when everything else is fluctuating. Getting your voice into someone's inbox is still the most powerful method of connection.
So why is this a hard truth?
Because most people still struggle to grow that mailing list. And that causes them to be distracted doing things on social networking sites that aren't really the most productive uses of their time.
Tactics for more email subscribers and safer money
What I want to do now is take a look at some of the tactics I use on my blog to get more email subscribers and to ensure that those subscribers form part of an overall strategy that keeps my blog profitable.
1. Solidify your brand so it psychologically connects
The first step to a healthy mailing list actually starts with your blog set up.
I often get emails from readers asking why their blog is stagnating and their mailing list hardly growing. Most of the time when I check their site it is set up on a free blogging platform with a template I have seen a thousand times before.
Why would anyone give their email to a generic-looking blog?
You want to ensure that you blog immediately stands out in each visitor's mind. You want to make sure they can separate you from the rest of the junk out there.
Everyone who works online needs their own domain and self-hosted WordPress setup. It doesn't matter whether you are a blogger, a social media advisor or a photographer wanting more clients. Growing a solid brand based around property that you own is vital.
Without that, it will be very difficult to connect with readers in a way that is memorable.
2. Upgrade to a paid email marketing service
If you are still using a free service like Feedburner to collect your email subscribers then it's time to upgrade to a paid service like AWeber, Get Response or Mail Chimp.
The majority of a bloggers business (other than the blog) is done through the mailing list. For this reason you need to have access to things like:
Again, it's difficult to try and run a blog or website with a goal of professionally trying to acquire more email subscribers unless you are using the best tools. Please do not skip this step.
3. Split test your opt-in forms
In the old days marketers would just rely on ideas when it came to developing successful campaigns.
Ever seen an episode of Mad Men where Don Draper makes a suggestion and everyone assumes it will work just because he said it?
These days we use science.
It's called split testing (or A/B testing) and it is the art of running two versions of an email, opt-in form or advert and seeing which one performs the best.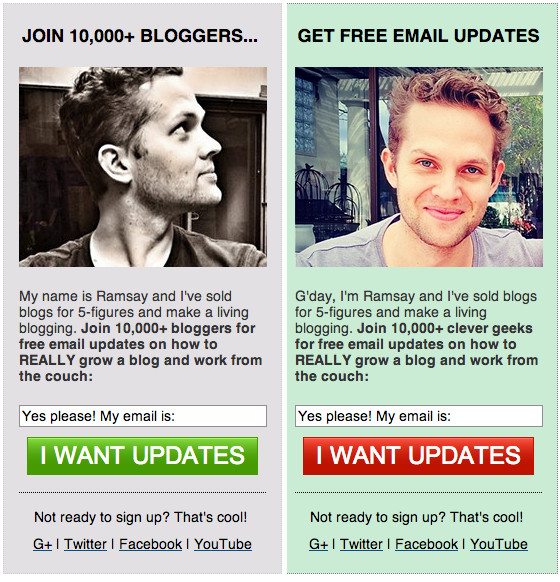 Here is a screenshot of two versions of the sidebar that people see on my blog. I regularly test different photos, button colors and text to see which performs the best. A split test like this can be set up in five minutes using AWeber.
When you perform tests like this make sure you are examining the end result and not just the sign ups. For example, an offer like "get $1000 for signing up!" might get you lots of new subscribers but also a lot of people unsubscribing when you send out your first email.
TIP: Make sure you test a pop up opt-in form. Although they carry some stigma about being annoying and invasive, I have one on my site that generates thousands of new subscribers and almost zero complaints. Almost every successful website has a pop up. But, as always, make sure you test it to see if it is actually working in the long term.
4. Create targeted content and promote it thoroughly
The most important part about building a solid email list and earning a stable income from that list is creating targeted content that is heavily promoted.
A lot of bloggers and social media marketers just create content and hope it goes vial.
This is quite often a complete waste of time.
For example, I have an article on Blog Tyrant that ranks at the top of Google for the phrase "about us pages" and brings me about 1,000 unique visitors every day. That traffic is largely useless, however, as the people visiting my site aren't targeted to my mailing list and the rest of my content.
Targeted content that grows a mailing list should be:
Once you develop this content you need to be really "okay" about promoting it. Many bloggers and marketers feel dirty if they promote something that they have done.
This is a huge mistake.
Just like any business, you need to advertise. Develop the useful content and then feel confident that you will be helping people and as such you should try to get it in front of as many people as possible. Facebook Ads and Blog Ads are a cheap way to get started with this.
5. Plug holes
Other than actually getting email subscribers, the hardest part in an email marketer's life is reducing attrition.
Basically this just means that you want to keep as many subscribers as possible without losing them because they get bored or frustrated with your content.
Some of the main holes that you need to plug in the process include:
The more of these holes that you can plug the more subscribers you will keep active and engaged on your list. This is very important.
6. Direct your subscribers to quality landing pages (not just product links)
Every now and then I'll be signed up to a mailing list that I think is really good only to be hit with a sleazy product pitch.
It's a real shame.
The relationship between email marketer and subscriber is one of trust. They have given us their email address and as such we should make sure that we only send out high quality material.
Now, there is nothing wrong with selling.
But we should make sure that when it comes time to sell that we do it in a way that doesn't conflict or clash with the previous content that we've been sending out.
For example, a lot of the more successful bloggers like Pat Flynn use a soft-sell approach where they don't exactly just send you straight to a "buy it now" link but rather work in a review or mention of the product into a highly useful blog post.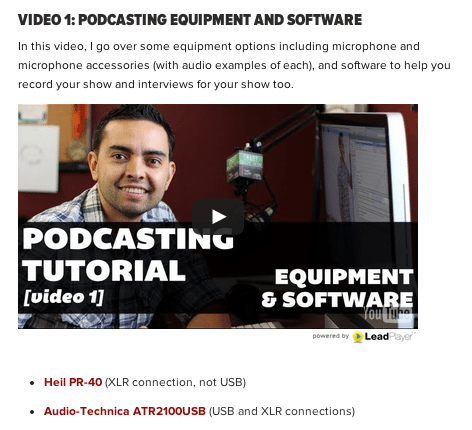 Pat's
podcasting tutorial
is a great example of quality content that gently promotes some affiliate products. He created hours of genuine podcasting setup tutorials (he is a very successful podcaster himself) but then also mentions a few affiliate products.
Keep your selling gentle and personal and always do it in the context of useful information. Remember, you want those subscribers to be around for the long term – not just the short term sale.
Social networking is still important (especially their ads)
At the start of this article I kind of bad mouthed social networking sites.
And while I do think that email marketing and content hosted on your own websites is still the most important, I do understand that Twitter, Facebook, etc. still have a place.
After all, a lot of people generate traffic and buzz using these platforms.
This is especially true when it comes to using sites like Facebook for advertising. There are so many examples of clever marketers spending a few dollars and driving huge amounts of traffic to brand new websites.
Aside from that, however, I wouldn't devote too much time to growing these profiles if it means you aren't developing other forms of content. We simply don't know whether these sites will be around for the long term.
Anyone remember MySpace?
Do you struggle to grow a mailing list?
Have you been trying to get more email subscribers for your blog? Has this been a difficult process for you? I'd be really interested to know what you've been trying and how it has been working for you. Please leave a comment and let me know.